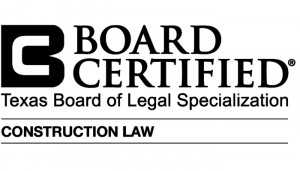 Hicks Law Group PLLC is proud to announce that managing member Rebecca Hicks has earned Board Certification in Construction Law from the Texas Board of Legal Specialization.
With her certification, Rebecca. Hicks joins a select group of only 83 attorneys in Texas to be Board Certified in Construction Law. The founder of Hicks Law Group, Ms. Hicks' practice specializes in Construction Law with an emphasis on Creditors' Rights.
To earn Board Certification, attorneys must complete a rigorous program established by the Texas Borad of Legal Specialization and the Supreme Court of Texas. The certification process is designed to set lawyers apart as practitioners with the highest commitment to excellence in their areas of practice.