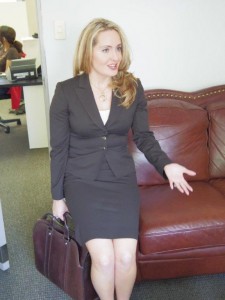 Rebecca Hicks has been selected by the Dallas Business Journal as one of the top "40 Under Forty" class of 2012.  This distinction highlights executives and entrepreneurs 39 years of age and younger who are, "at the top of their game professionally, and personally have demonstrated a commitment to the North Texas community," according to the Dallas Business Journal's Managing Editor Katherine Cromer Brock.
Rebecca, along with the entire class, was featured in a special section of the Dallas Business Journal on August 24 and was recognized at a cocktail party at the Granada on August 23.
Rebecca founded Hicks Law Group PLLC in 2011, and has a thriving practice in the areas of construction law, creditors' rights and business litigation.  Hicks Law Group represents business clients of all sizes and is privileged to represent many women and minority owned businesses.  In 2011, Rebecca was recognized as the Business Advocate of the Year at the Regional Hispanic Contractors Association Luna Awards and Women's Conference.  Rebecca is also a 2011 Leadership Texas graduate, a premier statewide women's leadership program, the longest running and most successful of its kinds in the country.
Rebecca is a member of the National Association of Women in Construction, and served as President of the Dallas Chapter for 2007-2008.  She is active in the Women's Business Council Southwest, and has served on the Architectural Construction Engineering Steering Committee and Power to Potential Committee helping coordinate and often teach seminars on legal issues of interest to business owners.  She also works with the DFW Minority Supplier Diversity Council, Regional Hispanic Contractors Association, and National Association of Credit Management Southwest.
Outside of work, Rebecca serves on the Leadership Team for the Dallas Chapter of the Foundation Fighting Blindness (FFB), a nonprofit that raises money to fund research to find cures for retinal diseases that cause blindness. She also volunteers for the Racing for Sight committee to benefit the Retina Foundation of the Southwest.  Racing of Sight is an annual event at Lone Star Park with over 500 guests which raises approximately $500,000.00 to fund research.